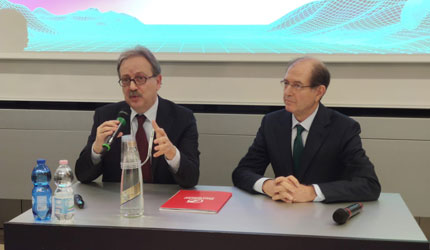 Some remarks by Antonio Sassano, Chairman of Fondazione Ugo Bordoni on the Agreement with Algorand Foundation.
I am really honored to be here today with my old friend Silvio, signing an agreement which will enable us to give a new contribution to the digitalization of private and public services in Italy and in Europe. Fondazione Bordoni is a non-profit body, recognized by the Italian law as an institution of high culture and research with the purpose of carrying out studies and projects in the field of Information and Communication Technology. It currently employs more than 100 researchers and supports the Italian Government in the fields of Spectrum Management, CyberSecurity, Data Science and Telecommunications.
The law entrusts us with a key responsibility. We have the statutory goal of devising and proposing, in full scientific autonomy, strategies for the development of the communications sector.
We take very seriously this responsibility and one of our main activities is that of elaborating our view of the future Internet. More specifically, we believe that the full deployment of 5G will empower a revolutionary and "startup friendly" future internet, characterized by fully decentralized storage and computation capabilities and a "trust infrastructure" guaranteed by a borderless, "permissionless" and public blockchain.
This bright future is not guaranteed, though. The road is long and winding. Today's market winners could impose a super-centralized Internet, with centralized storage and computation and a "permissioned" and private blockchain infrastructure. A real hijacking of the dreams of the Internet pioneers.
It is to avoid this gloomy super-centralized future that Fondazione Bordoni has decided to experiment and study the properties of the most promising "permissionless" blockchain infrastructure appeared in the scientific literature: Algorand.
Designed by Silvio Micali, Professor at MIT, recipient of the Turing Award for fathering the ideas at the very base of modern Cryptography, Algorand is a quantum leap in the blockchain scenario. It solves the so-called Trilemma by guaranteeing, at the same time, security, decentralization, scalability and energy-sustainability. Moreover, it has recently added the fundamental feature of Non-Turing complete smart contracts. We believe that Algorand will allow us to design and experiment new services in what I would call: a "permissionless ready" blockchain environment.
With a "permissioned" and private use of Algorand in the sandbox phase, but ready to reap all the advantages of the "permissionless" and public environment as soon as this will become mainstream.
I conclude by thanking all the people that made this signature possible: the Bordoni staff and our friends at the Algorand Foundation and at Ministry of Economic Development. Only two names, those of the two women to whom we wisely entrusted the hardest task: taking care of the scary "legal side of the blockchain": Sonia Caldarelli and Anne Warner. Thanks to the efforts of Anne, Sonia, Silvio and all the others, Algorand and Fondazione Bordoni can now look forward, with great hopes, to the common goal of a decentralized and "borderless" future.