The first Fubinar on "Blockchain and Citizen Protection" will take place on Wednesday, 20 May at 5:00 pm.
Increasingly, Blockchain is emerging as a means to manage decentralised services through secure, efficient and scalable solutions. In this context, from an idea developed in cooperation with the Sapienza University of Rome, FUB has created a prototype to manage selective consents based on Algorand technology: the "Decentralized Robinson List", which won the Algorand Asset Creation and Management Platform award in the international contest Future of Blockchain 2020.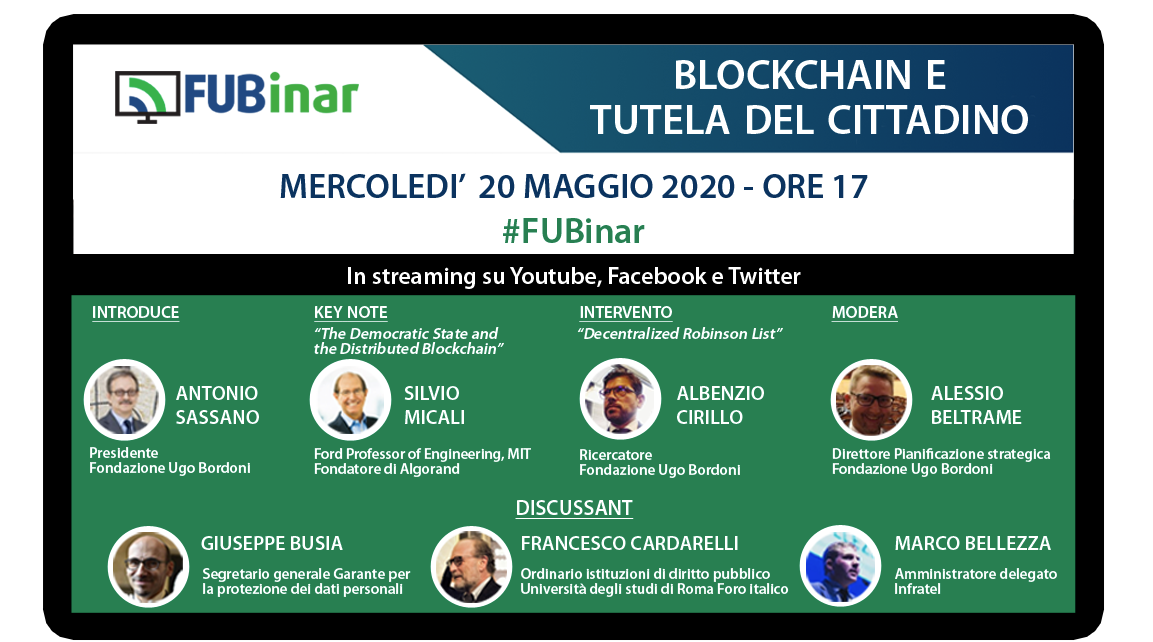 Il Seminario, moderato da Alessio Beltrame, responsabile della pianificazione strategica FUB, sarà introdotto dal presidente Antonio Sassano, cui seguiranno un Key note speech di Silvio Micali, Ford Professor al MIT di Boston e Fondatore di Algorand, sul tema "The Democratic State and the Distributed Blockchain", una presentazione della "Decentralized Robinson List" da parte del ricercatore FUB Albenzio Cirillo e gli interventi di Giuseppe Busia, Segretario generale dell'Autorità garante per la protezione dei dati personali, Francesco Cardarelli, Ordinario di Istituzioni di diritto pubblico all'Università di Roma "Foro Italico" e Marco Bellezza, Amministratore delegato di Infratel.
I servizi digitali della PA, finora gestiti con sistemi centralizzati, possono essere implementati in una logica decentralizzata basata sulla tecnologia blockchain? Quali le condizioni? Quali i vantaggi? Come si assicura il rispetto normativo sulla protezione dei dati personali?
Ne discutiamo nel nuovo formato di seminari sul web.
Per partecipare inviare una mail a fubinar@fub.it.
Programme (Italian version)
Presentation (Italian version)